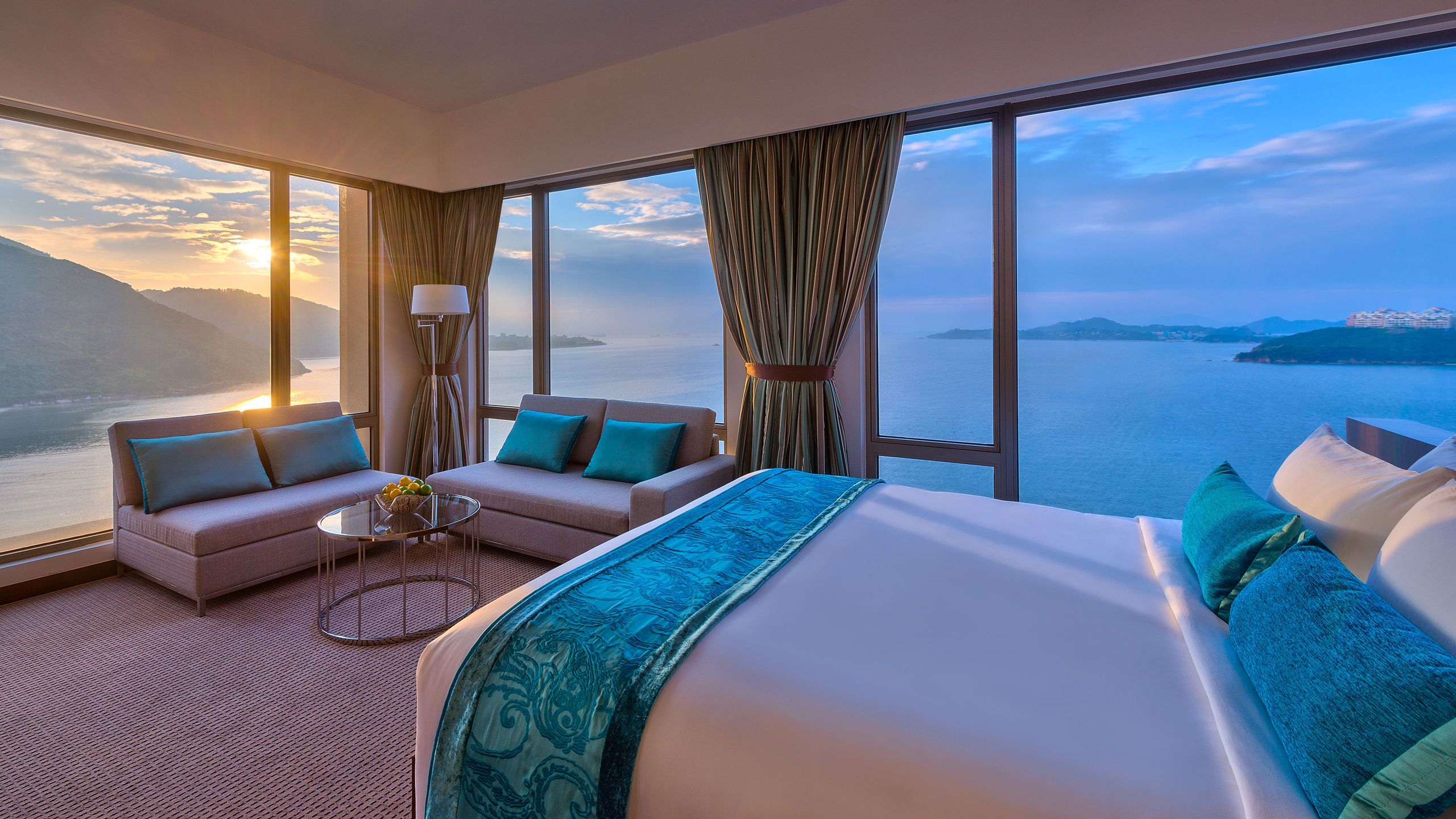 Explore
Explore
Hong Kong's Oasis
Hong Kong's Oasis
Explore another side to Hong Kong at Auberge Discovery Bay Hong Kong.
Located 25 minutes from Central, our island oasis is surrounded by natural wonders and first-class facilities. Comprising 325 superbly appointed rooms and suites, guests are surrounded by ocean views, greenery and natural beauty.
With its unique location, Auberge Discovery Bay Hong Kong offers the best of both worlds. Close to popular tourist attractions, including Hong Kong Disneyland, Ngong Ping 360 Cable Car and the Big Buddha, the Hong Kong International Airport is only 25 minutes away.
At Auberge Discovery Bay Hong Kong, the possibilities for creating treasured moments are infinite
Bordered by mountains and boasting oceanfront views, Auberge Discovery Bay is Hong Kong's ultimate romance destination. This picture-perfect setting is also home to Hong Kong's only seaside chapel. At Auberge Discovery Bay Hong Kong, we invite you to find inspiration in the surrounding nature and indulge in the pleasures of delightful dining
Pavilion
Inspiring and enticing, the Pavilion captivates guests with its elegantly sleek design, waterfront location and romance-evoking views. Standing at a stately 16 m, the Pavilion is a prominent, elegant icon on the Discovery Bay horizon.
delicious delicacies
Café bord de Mer & Lounge
Open for breakfast, lunch and dinner, guests can indulge a varierty of western menus in our Café bord de Mer & Lounge.
With its open-plan layout, interactive cooking stations and timber finishes, Café bord de Mer & Lounge reflects a relaxed lifestyle. The full-length windows invite sunlight to stream into the restaurant, creating an airy, light-filled environment, and rewarding guests with panoramic views over the South China Sea.

Beyond Café bord de Mer & Lounge, the outdoor terrace is designed for ultimate relaxation. Enjoy a cocktail in the evening, sample snacks under a starry sky or simply sip your wine as you listen to the waves lapping at the shore.

Café bord de Mer & Lounge can accommodate up to 160 guests while the outdoor terrace welcomes up to 400.
Please click here for information on Exclusive Dining Offers for Staying Guests.
For any enquiries, please contact Café bord de Mer & Lounge at 2295 8299.
REVIEW
寧靜、好有旅行feel
交通方便,酒店附近有往來東涌、欣澳、往渡輪及街渡碼頭。寧靜、好有旅行feel。接待處職員十分友善。自助早餐應有盡有。 酒店及渡輪碼頭有不同餐廳、超市及海灘,讚!
A nice location for getting away from city
A nice location for getting away from city
The location and decoration of this hotel, plus the multicultural nature of the suburb, enabled a local Hong Kong resident like me to enjoy an "overseas-like vacation" within the Hong Kong territory. Hotel rooms are clean and spacious, with polite and helpful staff to handle my queries and requests. Especially recommend the bar, it is an independent store disconnected from the main hotel building, like a secret gem with relaxing environment to spend my evening there with drinks, nice food and pool.